We designed, developed, manufactured and installed a charming exhibition stand for Farécla at the Advanced Engineering Show, showcased at the NEC.
The bespoke stand attracted many customers over the two-day period and we couldn't wait to talk about it!
About Farécla
Farécla's products Ltd is a UK based manufacturer, providing surface finishing solutions in the automotive industry since 1952. With products including compounds, polishes, waxes, applicator, paint cups and cloths. Farécla's compounds are sold in over 120 countries and used in a wide variety of industries.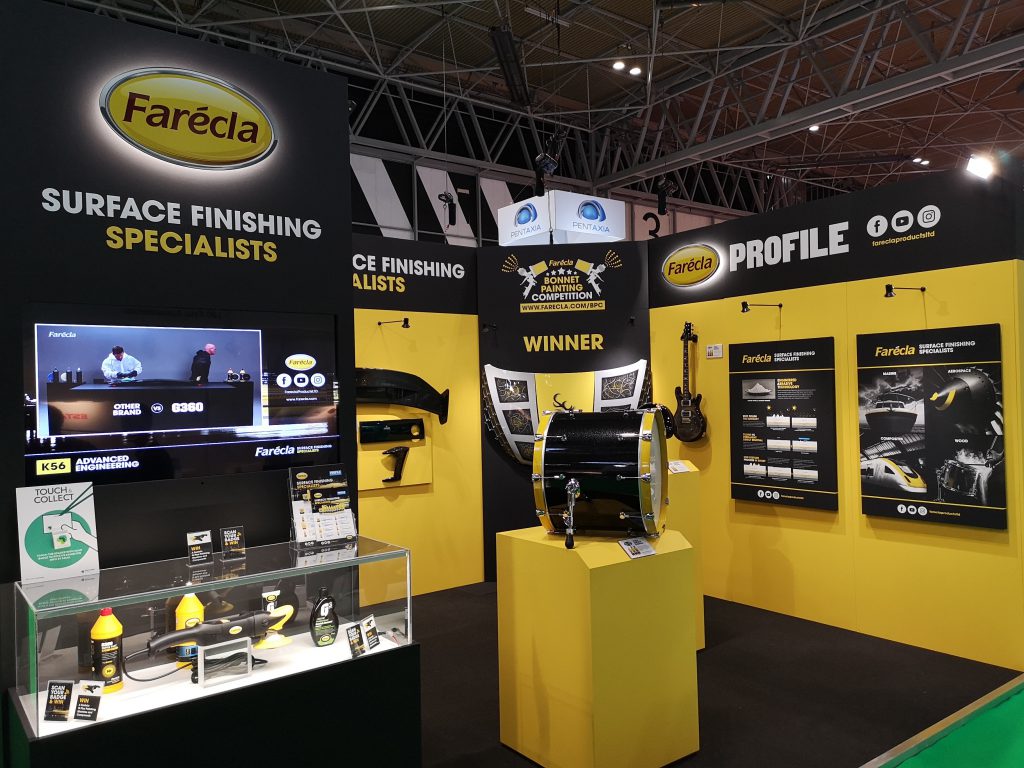 Advanced Engineering Show
The Advanced Engineering Show is the UK's largest annual advanced manufacturing trade show. It gives brands the opportunity to meet and network with OEMs and supply chain partners spanning design, test, measurements, inspection, production and assembly – reaching into the key sectors of aerospace, automotive, civil, rail, transport, electronics and more.
The show provides an opportunity for companies such as Farécla to explore business opportunities across multiple sectors under one roof, with the ability to speak with potential customers.
The Farécla stand
The combined beaming yellow and bold black come together to become a stand-out and captivating showcase. With featured products supplied by Farécla, it was vital for us to create a space where each prop has its own light.
The artistic bonnet is a unique feature, situated on the back wall in the corner. Farécla hold an annual competition and it is open to anyone whoever wants to enter. The brief was to design and spray the bonnet yourself and the winner will have theirs showcased on Farécla's stand.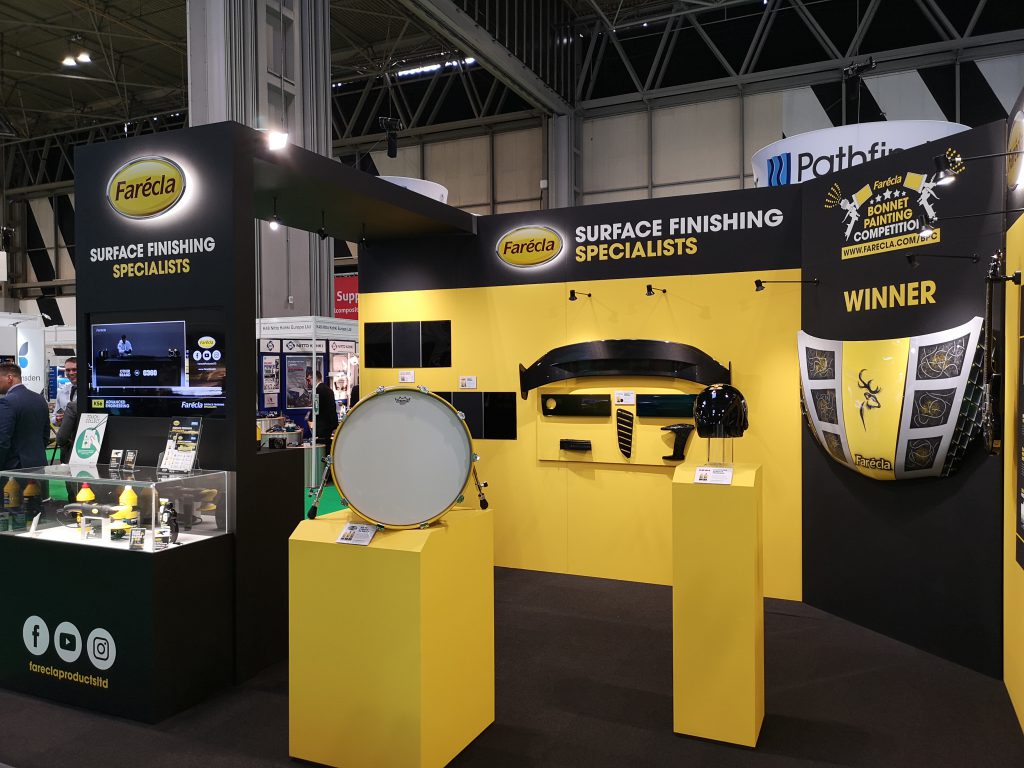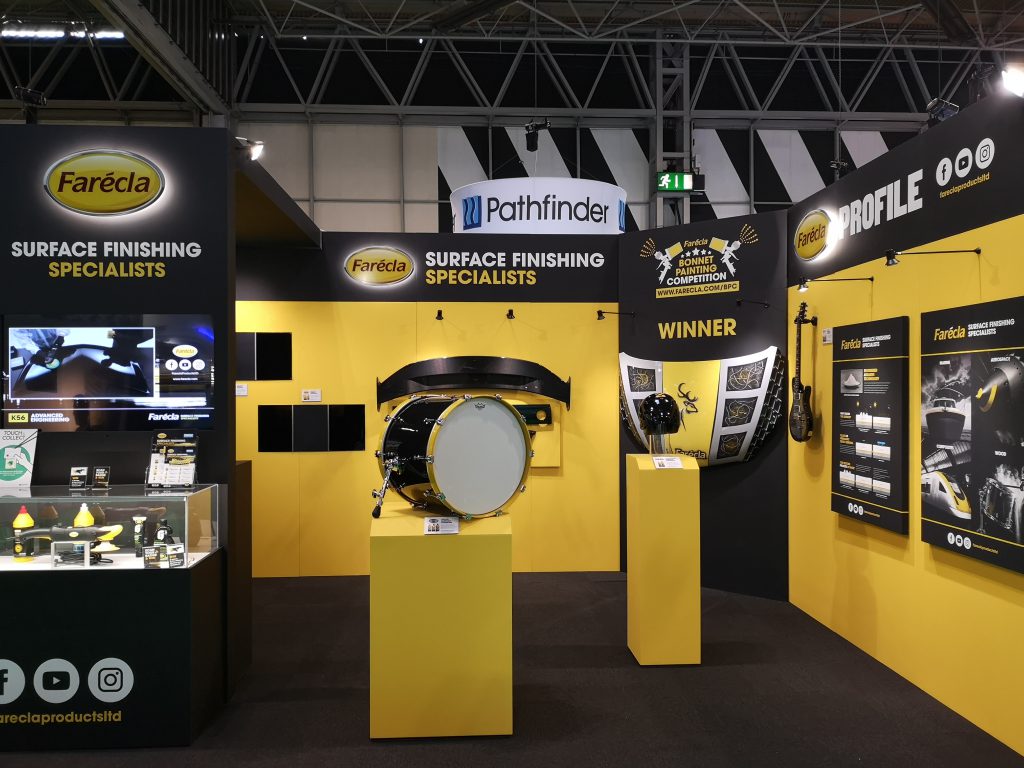 The three-dimensional mount display was printed on large portrait canvas boards. This brought a sense of depth and illusion – as well as being a feature on a flat wall.
The drum and helmet were featured on their own individual free-standing yellow blocks, along with a guitar and selection of carbon fibre automotive components which gives Farécla's staff a pivotal talking point to its customer who visited the stand.
We wanted to incorporate LED lighting which features behind the Farécla logo that sits above the main forward-facing wall. This gives it a bit of glamour, helping the brand's name stand out from afar.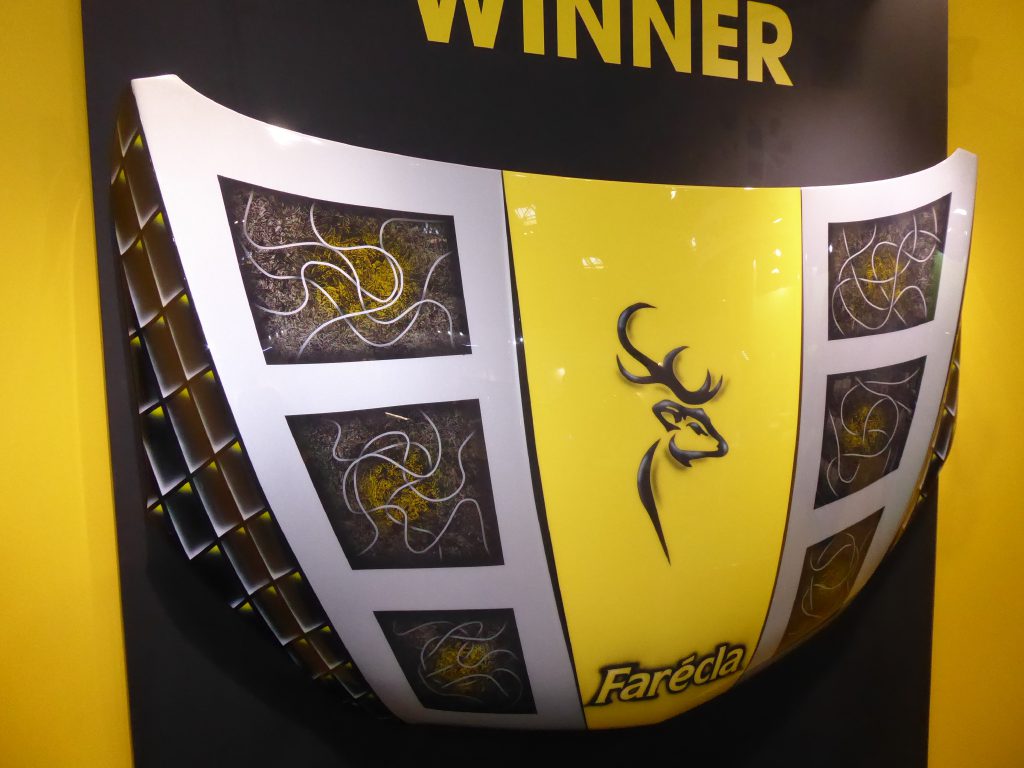 List of Marketing Objectives
To create a stand-out exhibition display.
How it was met: The high-quality bespoke exhibition stand was well thought out in relation to product location, incorporating the competition winner and wall mounts. The stand incorporated unique props, such as a guitar. A gallery style way of presenting to customers how Farécla's products can be used on a wide variety of products.
Presenting stock effectively.
How it was met: The products were stocked both on the walls effectively. By precise manufacturing and installation implementation, it meant that we could bolt on the delicate props with ease. The free-standing blocks break up the space on the floor, as well as being an effective way to display product. Lastly, a glass cabinet was incorporated – to highlight additional products and easily visible to customers.
Promote Farécla's brand.
How it was met: We believe we promoted Farécla's brand effectively. With the use of yellow and black branding – it created a positive and interesting space to be. Incorporating LED lighting and a television brought the stand to life, giving customers a moving media visual, to compliment the still life products.